Download Ubuntu Firefox Themes
Direct Installation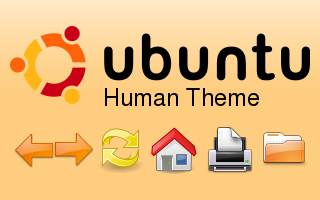 Human theme preview
Are you using Firefox 1.5 on Linux? Click the following links to immediately install the themes (make sure you enabled software installations for the domain www.ffnn.nl):
Download JARs
Download the installation JAR file for each theme:
Changelog
Version 0.4
Added proper prerendered icon for Privacy
Lots and lots of build script fixes and optimizations
Implemented colored build logs for checking icon theme completion
Version 0.3
Added proper icons for History, Bookmarks, Secure, Insecure, Tab, Bookmark Move, Page Orientation and Plugins
Updated the Bookmark Rename icon to better match defaults
Fixed "tab close" issue present in the default theme
Version 0.2
Now supports three themes: Human, Tangerine and Tango
Automatically generated preview images
Fixed confusion with the Human theme using Tangerine icons
Version 0.1
Initial public release, Tangerine icons
Build Logs
These build logs are mainly intended for keeping track which icons are used in the themes and tracking inheritance between icon sets. The current build logs are available for each theme:
About
Read the Ubuntu Firefox Themes project page for more information about the themes.
Related pages
Check out these related pages: