FFNCalc Screenshots
Gebruik de navigatielinks om door de screenshots te bladeren, or keer terug naar de FFNCalc projectpagina.
Use the navigational links to browse the screenshots, or return to the FFNCalc project page.
Activiteitenbestand: uploaden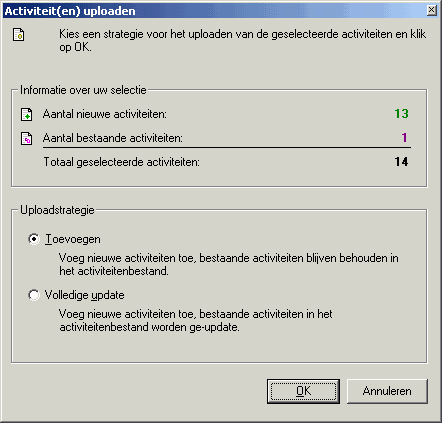 Tijdens het uploaden van activiteiten van een begroting naar het activiteitenbestand kunnen conflicten intelligent opgelost worden.
Conflicts can be intelligently resolved when uploading activities from a calculation to the main library.
Afdrukvoorbeeld / Printing capabilities
Naast screenshots is er ook een afdrukvoorbeeld van een begroting beschikbaar.
Be sure to check out the printing capabilities of FFNCalc on this page.